To date we have given out close to $200,000 in grant funding.
Grants Awarded
September, 2017
At it's September board meeting, the Southington Education Foundation approved the following grants.
Beehives - Apiculture in Agriculture:
The SEF awarded $4,398 to Jennifer Shields at Southington High School for this grant.
The current movement in agriculture is the localizing and greening movement, and beekeeping fits into both of those categories. Beekeeping is important to learn about because of their impact on the local environment (they will pollinate crops and flowers within a three mile radius), and it is important to teach awareness of bees because of their recent decline in population. Bees sustain agriculture because of their pollinating abilities, but also because of the beeswax and honey they produce themselves as a crop. Due to the limited space requirements, and their endless benefits, beekeeping is becoming a very popular hobby and farm crop.
This project will fill the gap in the curriculum for apiculture and beekeeping where there was none before. Students will not only learn about bees in the classroom but they will then be able to apply their skills by maintaining a beehive and performing hands-on work and skills.
This project will benefit the Southington community because of the accessibility of the hive location for educational purposes, it will be maintained by students, it will provide pollinating service to those nearby, and it will produce products to be sold to the public. Bees will benefit LEAF as well as all plants, gardens, and forest within 3 miles of the hive. Bees will travel up to three miles for food, and they will help pollinate Southington resident gardens, and wild plants to benefit many members of the town once they are installed. It is difficult to teach about beekeeping without being able to see and inspect a working hive. The products from the bees will teach students about entrepreneurship and how to market, package, price, and sell products.
Flexible Seating in the Classroom
The SEF awarded $2,576 to Gina Krar, Jessica Fletcher and Adriana Chiappelli at Plantsville Elementary School for this grant.
Research shows that students struggle with anxiety more now than ever. Part of the cause is that we are asking more of them than they are developmentally ready to handle.This includes sitting in a chair for long periods of time. We are proposing flexible seating in our first grade classrooms to allow our students to move throughout the day, which in turn helps them engage in their learning, increase their productivity, instill a love for learning, and it will do a small part to help combat childhood obesity.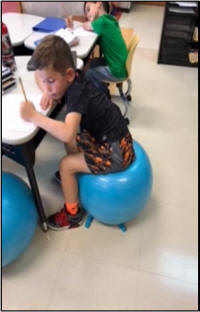 Although we regularly include movement breaks throughout our day, flexible seating takes movement one step further. Students can move, engage their core, fidget, and more while they are learning. A student-centered classroom is one in which students will learn best. Imagine walking into a classroom during writer's workshop. You look around and see children laying on their bellies with a clipboard or sitting up on their knees at a lowered table. Some are standing at higher tables while their feet fidget with therabands and others are moving side to side on wobble stools or stability disks.
All students are engaged in their writing because they were able to choose which style of movement and position helps them learn the best. We have read many studies by both teachers and professionals who have used flexible seating and they all have found positive effects on their students.
Learn more - read the Southington Observer story.
---
January, 2017
At it's January board meeting, the Southington Education Foundation became a Gold Sponsor of the SHS FIRST Robotics Team 195, the Cyber Knights with a $1,500 donation to the team.
The mission of FIRST (For Inspiration and Recognition of Science and Technology) is "To transform our culture by creating a world where science and technology are celebrated and where young people dream of becoming science and technology leaders." That mission perfectly correlates with the SEF's desire to bring awareness to the need for STEM enrichment in our district's curriculum.
Since 2013, SEF has awarded $8,500 to the Cyber Knights program and is proud to support and enhance such programming.
---
Fall, 2016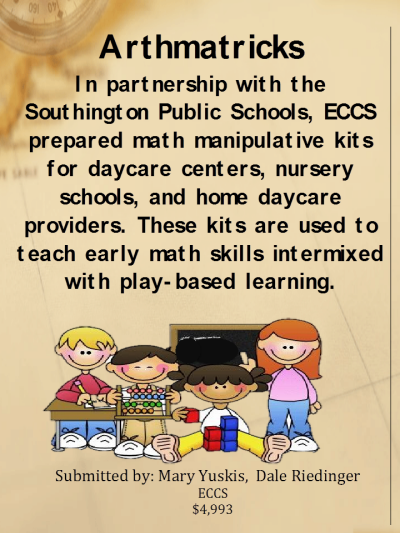 Through a $4,993 grant awarded by the Southington Education Foundation (SEF), Math Conceptual Development kits have been purchased for every family day care provider, nursery school and child care center in town. These math kits were conceptualized and created as a partnership between the Southington Public Schools (SPS) Math Coordinator's Office and the Early Childhood Collaborative of Southington (ECCS).
Directors and staff at Southington's early childcare providers were invited Sept. 14 to a workshop to learn about math skills for young children and activities to do with the math manipulatives in these kits. Dale Reidinger, the SPS Math Coordinator, identified the components, purchased the materials and will do the training. The kits contents, which were assembled by volunteers from the SEF, ECCS and SPS, include Unifix Cubes, Pattern Blocks, Attribute Blocks, dice, instructions and more.
"The Southington Education Foundation is pleased to provide funding for the Arithmatricks grant requested by the Early Childhood Collaborative of Southington," said Jan Galati of the SEF. "The Grants committee determined this project as an opportunity to provide hands on experiences in math and reasoning skills to preschoolers who will later move on to the public school system."
"Young children experience mathematics all around them helping them to make sense of their world," said Dale Reidinger. "Some basic mathematical concepts such as patterns and sequencing develop early in both infants and toddlers with simple early games we play with them. Recognizing patterns helps them to understand how the world works and sequencing helps to develop a sense of order, logic and reason. As they play, observe and interact with others, they learn to construct mathematical ideas in very informal but important ways. In these early years they will compare size and quantity, measure, build, recognize and create patterns and shapes, and sort and classify objects by their attributes. These early experiences show us that preschool children have a natural ability and interest to engage in mathematical thinking and problem solving."
The National Council of Teachers of Mathematics and the National Association for the Education of Young Children issued a joint statement: "High quality, engaging, and accessible mathematics education for 3-to-6-year-old children is a vital foundation for future mathematics learning." Studies have shown that having knowledge of basic math concepts is strong predictor of later achievement of both math and reading.
An important educational goal is for children to have "good number sense." Children need a wide variety of experiences and activities to help them construct many ideas about numbers. They must see relationships between numbers with connections to the real world using simple tasks. Conceptual understanding of numbers includes seeing relationships between more, less or equal in a group of objects; counting and numeral recognition. Counting tells how many items there are in a group. Young children must count with objects and while counting they need to associate one number count with every one object.
Click a photo below for a larger image.
---
May 25, 2016
While walking the trail through Plantsville, make sure to stop to admire the work of our talented third graders. Their mural, unveiled May 25, 2016, is located by Dean's Stove and Spa, and depicts various attractions throughout Southington.
A big shout out to the the art teachers who oversaw this project, especially Barb Szymanski, Art Teacher, Kelley, Thalberg, Plantsville and Derynoski Elementary Schools.
The project was funded by the Southington Education Foundation (SEF) and the Community Foundation of Greater New Britain in collaboration with Southington Public Schools and the New Britain Museum of American Art.
Click a photo below for a larger image.
---
November, 2014
Southington Education Foundation Partners with the Community Foundation of Greater New Britain In Support of the Third Grade Artist in Residence Program
Together with the Community Foundation of Greater New Britain the Southington Education Foundation funded a cultural experience that reached nearly 500 third graders in the Southington Public School system during the school year 2014-2015.
The Third Grade Artist in Residence Program began with conversations among representatives from the CFGNB, SEF, school administrators and art teachers. This project was seen as a wonderful opportunity to enhance the arts experience of younger children by integrating Southington history and landscape art and, in doing so, grow students' cultural knowledge.
Through this program teachers received professional development to increase their skills and knowledge in photo collage. Students worked with their art teachers and a specialist in the art of collage to produce at least one piece of art per school. The planned field trip to the New Museum of American Art allowed young learners to view real art and align it with their learning in the classroom. The photo collages hang in all eight elementary schools where students, staff, parents and all visitors can enjoy the work of these young artists!
Click photos below for a larger image.
A special Thank You to the Art Teachers who were involved in the Photo Collage Project:
Dana Baldwin
Joelle Castonguay
Luciana Florio
Lauren Klein
Jessica Leiss
Barbara Szymanski
Kudos also to Karen Smith, past Southington Assistant Superintendent and Jan Verderame, Derynoski Elementary School principal, who together initiated and oversaw this project throughout its duration.
Jessica Leiss will join the art teachers as they take part in the 2015-2016 Artist in Residence Project, jointly supported by the SEF and the CFGNB.
The Community Foundation of Greater New Britain and the Southington Education Foundation team up to provide art lessons for every third-grader.
Story by: Farrah Duffany/Record-Journal
fduffany@record-journal.com
(203) 317-2212
Twitter: @FollowingFarrah

All 475 students from the eight elementary schools visited the New Britain Museum of American Art in the spring and had in-school, hands-on art lessons by an artist in residence from the museum. Students created Connecticut landscapes, which ties into the third grade curriculum.

"The New Britain Museum of Art is just a gem in our back yard," said Jan Galati, chairman of the Southington Education Foundation. "Our mission is to expand learning experiences for students with things that are exciting, creative, and hands on."

About $9,000 of the $24,875 in grant funding for the program came from the Southington Education Foundation and the rest from the Community Foundation of Greater New Britain. The education foundation is a non-profit dedicated to raising funds for school programs. The community foundation works with Berlin, New Britain, Plainville, and Southington to raise funds and develop partnerships.

The art program has been in the works since 2012.

Teachers visited the museum for professional development and to learn about the program. "It's an undertaking, but it's something that we do," said Mare.

A survey conducted by the museum found that only 35 percent of Southington third-graders have visited an art museum and 10 percent have visited New Britain's museum. Galati said it was a "startling" and "alarming" statistic. Students should have more exposure to the arts, she said. The education foundation has supported many programs on science and technology.

"This is an example where we want to support the arts as well," said Alan DeBisschop, past treasurer of the Southington Education Foundation.

Students visited the museum for a few hours, one bus at a time, and studied some of the different landscapes in the museum. They were shown a variety of other genres as well.
---
June 4, 2014
The June 4th reception at Thalberg School marked the tenth round of grants conveyed to educators and again there was reason for excitement.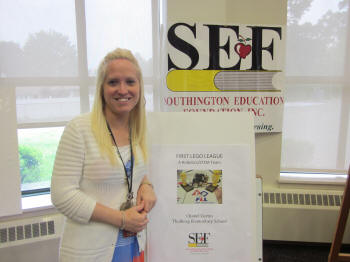 Chanel Curtin, a teacher at Thalberg School was awarded a grant which allows her to start a robotics team next fall through the national program First Lego League. The interest among fourth grade students was so amazing that Curtin needed to devise an application process to narrow the field of candidates. The FLL team is comprised of 10 fourth-grade students whose mission is to construct a robot that will maneuver through an obstacle course. Each year a new challenge is presented to FLL teams and next December a competition will be held in Berlin. According to competition rules, points are awarded for each robot's performance which ultimately results in its placement in the competition. Curtin explained that robotics fosters independent thinking and problem solving skills and team members will be able to continue their interest in robotics at the middle school and high school levels.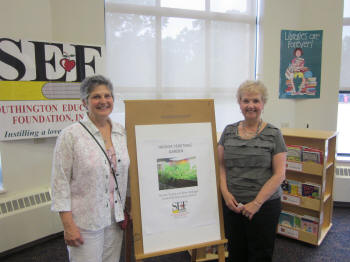 At South End School Marion Virello, the food services manager, and Ellen Bellinger, a first grade teacher, combined to create an indoor organic vegetable garden, an activity that they had heard about in New York City schools. Virello reported that it took about 20 hours to complete assembly of the eight-foot long raised beds that are housed in the cafeteria for all students to view. Once the construction was complete the students in the garden club set to work to plant seeds in soil cubes placed under fluorescent lighting. Each day at lunch students are able to hop up on benches to view the changes. The grant recipients expect students to learn where vegetables came from, plant and maintain a garden, and enjoy vegetables. Right now Bellinger said that the growth is slow and that there is a bit of a learning curve. However, she said it is a garden that will go on and on.
Each grant incorporates at least two of the STEM disciplines (science, technology, engineering and mathematics) and together $4,000 was awarded to the educators for their projects. To date the SEF has awarded $78,000 in grants and written $130,000 in checks for various grants, programs and initiative over the past five years.
Read the following news stories about these grants:
---
June 12, 2013
The SEF is proud to have awarded close to $6,000 in grant funding to our Southington educators to help them in their mission to provide the best educational opportunities to our school children.
Derynoski Elementary School speech teacher Jane Syme was awarded a $1,500 grant that enhances speech and language services for students in kindergarten through grade 5. The program, titled Apps that Focus on Social Skills on Two iPads, will enable Syme to utilize innovative applications available on the iPad to motivate and engage students both with regard to communication and social skills to ultimately improve social interaction.

"There are a multitude of programs and activities available using the iPad and expanding our applications will be a goal to target not only special education students but all students who require this support," said Syme. "Having these programs on an iPad provides a portable means for service delivery in diverse settings."

Syme noted in her grant application that children with speech and or language disorders frequently do not perform at grade level. "Impairment includes reading, understanding and expressing language, inability to process social cues and difficulty interacting with peers," she wrote.
South End Elementary School teacher Paula Gorham was awarded a grant for her kindergarten program titled An Interactive Storytelling Experience. South End's youngest learners will have the opportunity to use multimedia, materials and props as they retell or relive the stories in their favorite books based on their own real ‐ life experiences. Students will utilize a digital storytelling program, Pixie, and storytelling props as they develop their use language as it relates to storytelling.

"My students enter the classroom at the beginning of the school year with many different experiences with literature," explained Gorham. "As their teacher, it is my responsibility to identify what they know and help them grow as readers. Instilling a love of books and the stories that they hold is the first step in raising readers." Gorham further noted that she intends to have her students perform and retell some of the stories for other South End classes. "They will act out scenes, draw pictures and create digital stories. We will meet with the intermediate students during our book buddies program and at that time the students will retell their stories using our new materials."

This is Gorham's second grant. During the SEF's last round of grant funding during the start of the 2012 ‐ 2013 school year, Gorham received funding for a pilot program at South End and Kelley Elementary Schools titled Countdown to Kindergarten. That initiative aids families of incoming kindergartners in preparing them for the rigorous kindergarten curriculum by providing a "bag of tools" for families to use in the months between kindergarten registration and the first days of school.
Kelley and Plantsville Elementary School music teacher Katherine Diaz was awarded a grant to purchase West African percussion instruments for a program that offers a multitude of learning experiences for young musicians. Students in grades 3, 4 and 5 in both schools will learn a particular style of traditional West African music, song and dance called "Gahu." Diaz will form ensembles who will learn to play various instruments such as the Balafon and the Boba.

Besides integration of the West African music style in the general music curriculum, Diaz said she would also be forming an after‐school or recess group. A culminating performance will take place at each school to showcase the project.

"The West African Percussion Ensemble will fulfill a variety of academic, social and cultural needs of our students in Southington Public Schools," said Diaz. "Academically, the students in grades 3, 4 and 5 will be participating in a rigorous but accessible ensemble heightening their listening/responding, rhythmic, creative, performance and technical needs in both instrumental and vocal music." Diaz further noted that she had a positive experience learning Gahu drumming during her graduate classes and felt "enriched as a person, building my musicianship through the higher level improvisations you can create in this style of music."
Kennedy Middle School mathematics teacher Amy Perry was awarded two grants, Exploring Middle School Mathematics with Nintendo Wii and Singin' & Signin'.

The Mathematics and Nintendo grant will impact all students in Grade 7 and Perry said she would offer the program to interested sixth ‐ and eighth ‐ grade teachers as well. "Engaging students in meaningful and fun mathematics can be accomplished utilizing the Nintendo Wii through interdisciplinary units and differentiated instruction for seventh ‐ grade students," she said. "Additionally, I will incorporate more rigor into the lessons by integrating graphing calculators, computer software and Internet resources to help build students' 21 st century skills." T

Perry's second grant, Singin' and Signin', is also a math program designed for interactive classrooms. The program teaches more than 50 complex math formulas to childhood songs and chants, using signs and gestures that can easily adapt to the district's curriculum. "The program maximizes student engagement, raises standardized test scores, addresses all learning styles and is award ‐ winning," said Perry. "The hope is that students will be engaged in the lesson and that they will have higher retention rates of mathematical formulas."

The Kennedy grants were supplemented by a school‐designated grant funded by the Veilleux family, who donated monies during the SEF's Fan of the Foundation Gala in October 2012.
DePaolo Middle School teacher Betty Swist was awarded a grant for her Whisperphones for the Improvement of Language and Literacy proposal. The Whisperphones grant will impact students in grades 6, 7 and 8 as all will have access to Whisperphones, which are acoustic feedback devices that provide students the ability to improve their listening, speech and reading skills. Students speak into a mouthpiece and their voice is be channeled directly into their ears via headpieces, thus enabling the child to hear his or her own voice clearly and loudly.

"This project is geared towards using auditory feedback devices to enhance language learning and literacy for all students who struggle with reading and communication," noted Swist in her grant application. "Overall, these devices will be an essential tool to build confidence in those students who struggle to communicate openly in the classroom setting, and enhance their ability to read proficiently."

With the SEF grant money, Swist will purchase 24 Whisperphones, adding to the five already in use at the school.
---
January 17, 2013
The SEF is proud to have awarded another round of grant funding to our Southington educators to help them in their mission to provide the best educational opportunities to our school children.
More than $12,000 was awarded to these recipients to assist them in developing innovative and creative programs: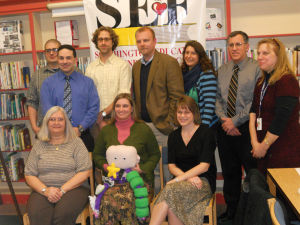 Hands-On Learning in Science and Technology: Producing Biofuel from Algae
Richard Niro, Dave DeStefano, Jesse Quinn, Justin Mirante, Patrick O'Keefe, Troy Schinkel and Sal Spagna
Southington High School
This $3,300 grant will engage students across the spectrum and teach the fundamentals of science and technology.

The program will involve the study of alternate energy sources – specifically, the use of common algae as biotechnology to convert the radiation of the sun into energy-rich oils and ultimately biodiesel.

"While the science, vocational, agriculture and technology education students at Southington High School are well grounded in classroom learning, they lack such a broad, engaging, collaborative project to apply their knowledge and skills in the context of relevant, real-world problem," states the grant application.

Several classes will be involved in the program. AP Biology students will cultivate algae, honors and AP Chemistry classes will remove the desired oils from the algae and AP Environmental Science students will produce biodiesel from the algae-grown oil. Also involved will be technology education students, including Project Lead the Way, who will work to increase the biodiesel production into large batches. Vocational agriculture students will test the products in diesel engines in the motor laboratory.

The entire project will be coordinated by a group of interested students, the BioEnergy Project, who will liaison between the various teachers, students and classrooms.

The SHS grant was supplemented by a school-designated grant funded by the Peccerillo family, who donated monies during the SEF's Fan of the Foundation Gala in October.
Countdown to Kindergarten
Paula Gorham
South End/Kelley Elementary School
This $700 grant will pilot a program that will aid families of incoming kindergartners in preparing them for the rigorous kindergarten curriculum.

The program will provide a "bag of tools" to families to use in the months between kindergarten registration and the first days of school. Included in a canvas bag will be an ABC book, name tags, letter formation charts, white boards and markers, a library card and more.

"As a kindergarten teacher, I frequently heard from parents that they didn't know what they could do with their preschooler to help better prepare him or her for kindergarten," wrote Paula Gorham in her grant application. "We, as a district, know that we need to get information about kindergarten expectations to parents prior to the beginning of the school year."

An important component of the program is a mandatory meeting with a literacy teacher to explain to parents how to use the tools provided in the bag. Parents will receive their bags in March during registration time. An evening workshop will also be offered to provide instruction.

The Kelley Elementary School grant was funded in part by a school-designated grant generously donated by Gerald and Susanne Veilleux during the SEF's Fan of the Foundation Gala in October.
Ukulele Buddies
Mary Jane Sullivan, music teacher
William Strong Elementary School
This $4,000 grant will connect third-graders to their grandparents and other senior citizens in the community.

The program brings grandparents and other seniors into a third-grade music class for a semester to learn songs with their student "buddies." After learning to sing the songs, seniors and their buddies will then learn how to accompany those songs on ukuleles.

"My most enthusiastic audience has always been my annual 'Grandparent's Program' in April. Every year, grandparents say things like, 'I wish I could be in your music class' or 'Could you teach me to sing, too?'" wrote Mary Jane Sullivan in her grant application.

According to Sullivan, the Ukulele Buddy program is a great way to extend quality musical experiences to seniors in the Southington community. It also enhances the music education experience for third-graders by exposing them to playing a string instrument in addition to the recorder.

The program will eventually expand to grades four and five as well.

Sullivan has already created flyers inviting interested senior citizens to Tuesday morning music classes from Feb. 5 through April 9. There are 50 openings and three different class options.
Tying Together Oral Language, Literacy, & Core State Standards with Braidy
Julie Zellner
Thalberg Elementary School
This $1,500 grant will help kindergartners with their story retelling skills.

According to Zellner, a student's ability to retell stories from their life experiences and what they read is crucial for academic success.

With the use of an interactive doll named Braidy, students will learn to present stories and transfer information by tapping into their working memory and the teaching of grammar components. Students will each receive a small version of Braidy to assist with their retell of stories.

"Our kindergarten students are in need of enriching language and structure in order to meet the literacy curriculum and standards for the Common Core. In school districts where Braidy is used, classrooms are filled with children using language necessary to do retells and using vocabulary that is semantically rich," Julie Zellner states in her grant application.

Kindergarten teachers will receive training in the use of Braidy, which has been in classrooms for 20 years.

The awarding of this grant was supplemented by a school-designated grant donated by the Possidento family, whose children attend Thalberg. Steve and Stephanie Possidento funded a school-designated grant during the SEF's Fan of the Foundation Gala in October.
Young Artists and Entrepreneurs
Michelle Ginand, William Walker and MaryBeth Eckert
Derynoski Elementary School
This $3,000 grant will provide a real-world business experience to students. According to the grant application, the program will ultimately impact students in Kindergarten through Grade 5.

Students will garner first-hand experience in both creating a business and real-world career opportunities related to the arts. To start, the program will involve all fourth-grade classrooms. Students will create a product in art class, a business plan with their classroom teacher and a marketing plan with the library specialist to sell the product.

The funds will be used to purchase equipment and supplies to establish the program. Eventually, the program will generate the revenue necessary to sustain itself in future years.

"One idea for future development of the program is to have fourth-graders create the product and the business teams and the fifth-grade create marketing teams that develop sales pitches that will be presented to the fourth grade. The fourth grade business teams will then choose the marketing team they want to work with," states the grant application.

Additionally, the equipment for this program will serve to enhance opportunities for after-school clubs.
Student Savers
Joanne Grant
DePaolo Middle School
This is the second time that Joanne Grant has been awarded funding by the SEF. She also won a $500 grant for her program titled Movie Club: Lights-Camera-Action.

This project will encourage students to develop an understanding of the importance of saving money and planning for future purchases. A bank will be established to help students save their spare change. In addition, students can withdraw amounts when needed for school trips or to participate in fundraising activities such as hat day, pajama day, etc. Students will be given a passport to keep track of all deposits and withdrawals.

Students will be trained to take in and record the money to the account," wrote Joanne Grant in her application. "Monthly statements will be sent to the students to remind them of their transactions and their current balances."

The savings program will be offered to all students who attend the school.
The DePaolo Middle School grant was funded in part by a school-designated grant generously donated by Gerald and Susanne Veilleux during the SEF's Fan of the Foundation Gala in October
---
June 7, 2012
The SEF is proud to have awarded another round of grant funding to our Southington educators to help them in their mission to provide the best educational opportunities to our school children.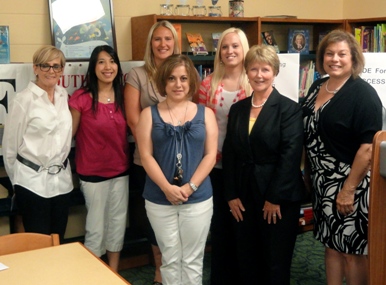 L-R: Linda Clock, Nhi Michaud, Michelle De La Rosa, Lenore Butler,
Chanel Curtin, Linda Bass-Reilly, Paula Knight
Four grants were awarded totaling nearly $10,000:
APP-TITUDE for ELL's SUCCESS
Linda Clock, Town-wide ELL Coordinator
Sustainable Learning in an Outdoor Classroom
Linda Bass-Reilly, Thalberg School
Good Morning Strong School
Lenore Butler and Paula Knight, Strong Elementary School
What's Cooking at Thalberg?
Michelle De La Rosa, Nhi Michaud and Chanel Curtin, Thalberg Elementary School
More than 50 teachers have received grants and each school in our district has been the recipient of at least two grants.
---
January 19, 2012
The Southington Education Foundation, Inc. awarded a fifth round of grants at a reception January 19, 2012 at JFK Middle School:
Electromagnetic Propulsion
Southington High School teachers Keith Michaelsen and Joe Stankoski were awarded a $1,500 grant from the Southington Education Foundation for an electromagnetic propulsion project geared towards 12th grade AP physics.
"The AP Physics students will apply the physics principles and theories they have studied to build and evaluate a device called a lifter that can levitate using electromagnetic fields for propulsion," Michaelsen wrote in his grant application. "The project will help students to apply their theoretical knowledge to a real world application that is not completely understood."
Students taking AP Physics will design, construct and then evaluate a device that obtains life or vertical propulsion from only electromagnetic fields.
Michaelsen said that the entire school could be impacted if the project is successful within AP Physics classes.
"If successful, this device could be presented and demonstrated to a broader audience in order to promote science education, specifically physics, and its potential benefits to society," he explained.
African Drumming
Kelley and South End Elementary School music teacher Elizabeth DiDomenico was awarded a $4,525 grant for her upbeat and hands-on African Drumming program. The drumming program will be implemented in the general music classroom for grades three through five as cultural enrichment to the curriculum in both schools.
"I also plan on starting a drumming group before school for any students who wish to participate," said Mrs. DiDomenico. "We would have a performance in the spring for the entire school and possibly the community, and this would turn into a yearly event."
Mrs. DiDomenico enrolled in a graduate course over the summer that focused on African drumming. She said it was "one of the most exciting courses" she had ever taken and labeled it life-changing.
"After the course was over I felt that African drumming is something that Southington needs musically, culturally, and socially as a part of our education," she said, adding that the program will offer a fresh approach to music education in her classrooms.
"The music, like the curriculum itself, is highly structured, requiring each member of the ensemble to play from memory a distinct, constantly evolving part," she explained. "Drumming provides unlimited potential for experience in rhythm, ensemble, movement, improvisation, meter, and timbre – the learning can be extensive."
At both Kelley and South End schools, the mantra in the music classrooms is the acronym D.R.U.M., which stands for: Discipline, Respect and Unity through Music.
This is the third grant awarded to faculty at South End and Kelley Schools.

Get A.L.O.T.
Flanders Elementary School teachers Dan Murdzek, Joyce McAloon and Krista Tibbetts were awarded a $3,200 grant from the Southington Education Foundation for their business-minded project called Give a little…Get A.L.O.T!.
The project will group fourth- and fifth-graders and challenge them to develop a business proposal. The winning proposal will be financed, thanks to the grant money, and the product sold at a local fair.
For the first year, Mr. Murdzek said the retail item has already been chosen – cupcakes, which will be sold at the Meriden Daffodil Festival. In future years, the students will come up with their own concepts and present them to a committee of staff members.
"The idea is to get the children communicating in the community, taking initiative, and taking a leading role. Children will also experience the satisfaction of contributing to their own school environment," said Mr. Murdzek.
For this year's project, students will be expected to present recipe ideas, potential expenses and predicted profits, a list of staff (children/adult volunteers), marketing plans, timelines, and other issues associated with "real world" small businesses.
"We plan on bringing in local business owners who could give lessons on how to manage a small business and prepare them for problems they may face," said Mr. Murdzek.
This is the third grant awarded to faculty at Flanders School.
LEGO Bricks in Space
Thalberg Elementary School teachers Chanel Curtin and Mandy Hubeny were awarded a $2,229 grant from the Southington Education Foundation recently for their space-age after-school program, LEGO Bricks in Space.
The program is a partnership between LEGO Education and N.A.S.A. and promotes and inspires science, technology, engineering and math skills in fourth- and fifth-graders.
"LEGO Bricks in Space will teach students personal development skills such as team building and self confidence. The activities are designed to enhance learning, introduce new topics, and encourage discussion," said Miss Curtin.
Students will work alongside International Space Station crew members to conduct activities that test the effects of microgravity on simple machines. Once they're done, students will compare their results with those of the ISS crew – who will be conducting the same experiments in space!
Other activities include learning the various components of an astronaut's space suit and utilizing basic engineering skills to build a LEGO satellite model.
"Students will use LEGO bricks to design and build a model that depicts their most treasured item that they would want to take with them on their space mission," said Mrs. Hubeny. "When all models are built, students will describe their model and why they want to take that specific item along. Later, students will record their accounts of discovery and exploration through a podcast."
This is the sixth grant awarded to faculty at Thalberg School.
---
May 26, 2011
The Southington Education Foundation, Inc. announced the names of four teachers who have been approved for grants during the organization's fourth round of grant funding at a Grant Awards Reception, May 26, at Southington High School:
Salt Water Aquarium Investigations
Southington High School School teacher Debra O'Brien received a grant to buy a salt water aquarium to use in her marine biology classes. Students will collect marine wildlife on the shoreline and study it in the classroom.

Who Wants to be a Science Extraordinaire?
Southington High School teachers David DeStefano and Judith Dunn received a grant for their "Who Wants to be a Science Extraordinaire?" proposal. The concept is a complex system that gathers student answers and data in the same way that the game show "Who Wants to be a Millionaire?" gauges feedback from its audience.
Take a Chance on Me
Kennedy Middle School teacher Amy Perry was given a grant for her "Take a Chance on Me" program. Her proposal will challenge students to start some kind of small business endeavor with $100 to work with.
---
January 20, 2011
The Southington Education Foundation, Inc. awarded a third round of grants at a reception January 20, 2011 at Plantsville Elementary School:
The Mysteries of Math in Music
Submitted by teacher Kate Fitzgerald of both Kelley and Plantsville Elementary School, the program consists of the Greater Hartford Symphony coming into the school and teaching students the correlation between music and math.

Give a Dog a Bone
Submitted by teacher Lenore Butler of Strong Elementary School, the program is a partnership between students and the local animal control facility. The students make homemade dog biscuits and sell them to staff and students.
Click here to view a video from Strong School students advertizing their "Give a Dog a Bone" business.

Best Buddies
Submitted by teacher Jennifer Carey of JFK Middle School, the mentoring program entails students taking other students, who might have developmental disabilities, under their wings.

Classroom Planetarium
Submitted by teachers Mandy Hubeny and Chanel Curtin of Thalberg Elementary School, the grant pays for two iPads and an application that allows students to look at astronomy.

Interdisciplinary Interactive Nature Center
Submitted by teachers Diane Hamel and Gina Calandra of Derynoski Elementary School, the grant will pay for turning a large courtyard at the school into a vegetable and flower garden. Students will be responsible for its upkeep.
---
June 10, 2010
The Southington Education Foundation awarded a second round of mini-grants at a reception June 10, 2010 at Kelley Elementary School: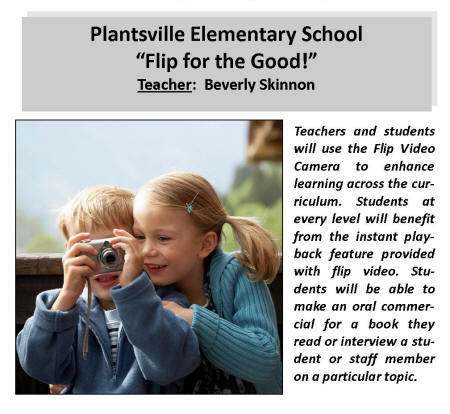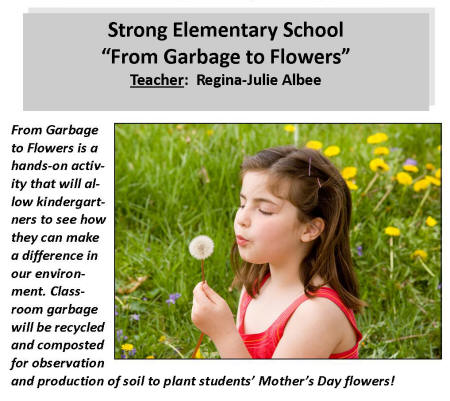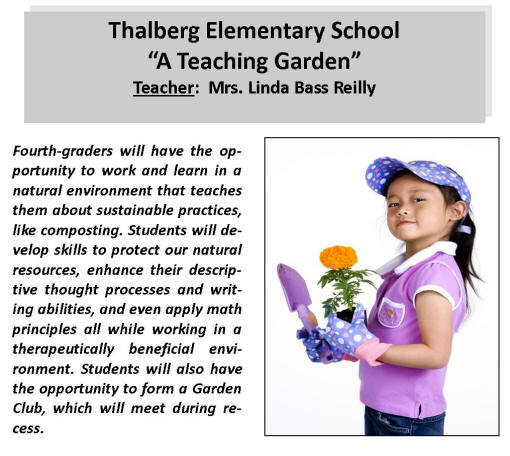 Welcome to Genevieve's Teaching Garden! Read an article from the NOFA (Northeast Organic Farming Association) School website, submitted by Linda Reilly, the teacher and coordinator of the Teaching Garden at Thalberg School. Download the article.
I just wanted to send you a quick note to let you know how a grant from the SEF has changed not only my entire classroom but also our school. In the Spring of last year I received a grant to compost in my classroom and it is going wonderfully. In addition to the compost my class challenged the school to help us recycle. As of this week we have recycled over 3,000 bottles and our class purchased the Earth day tree that we are planting tomorrow morning. Our goal was to lessen the amount of garbage we put in our landfills. NBC has been in touch with me and may cover our story. I wanted to THANK all of you for supporting our classrooms and making these types of activities possible. Thank you! Regina Albee.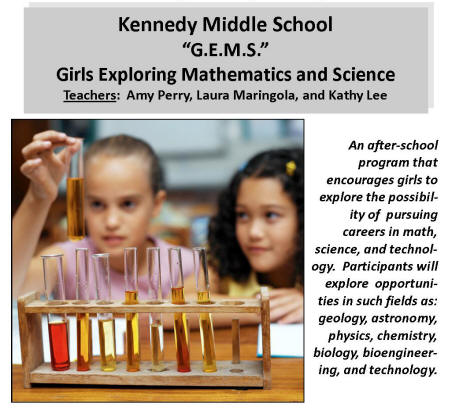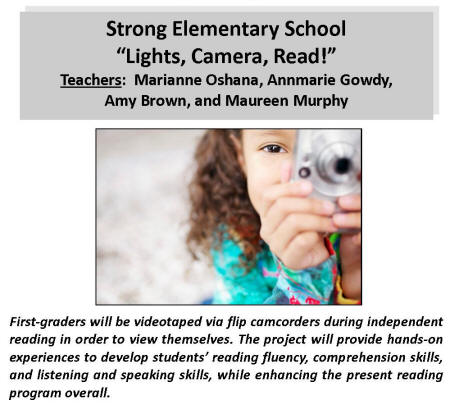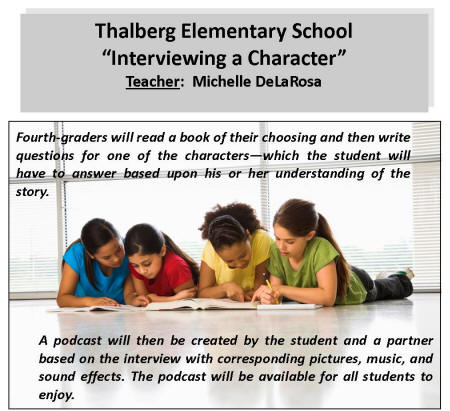 The grant impacted the children in many ways. I feel that by writing the interviews then applying the pictures and music really made the children connect with the character in the book they were reading. They were able to get a deeper understanding of the book and they were excited to read the book and participate in the project. The grant also impacted the children because of the other projects we are able to do with the i-Pods. Some of the children are using the i-Pods to create newscasts by videotaping themselves then making a podcast from it. I also use them to put soothing music on them for a student who has trouble focusing. It really calms him down and helps him complete his work. The children have really enjoyed using the i-Pods and I will continue to use them to help impact all children. - Michelle DeLaRosa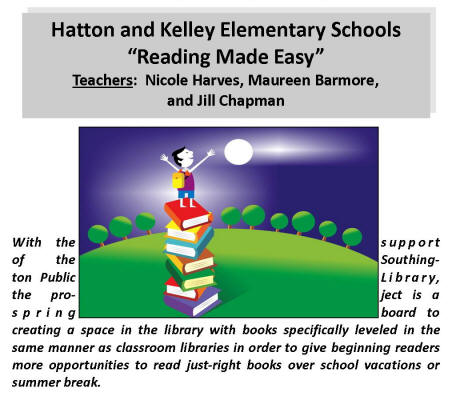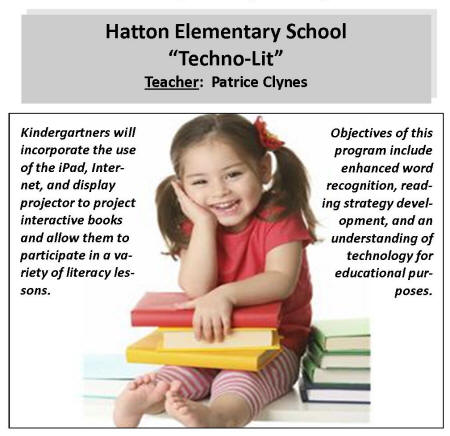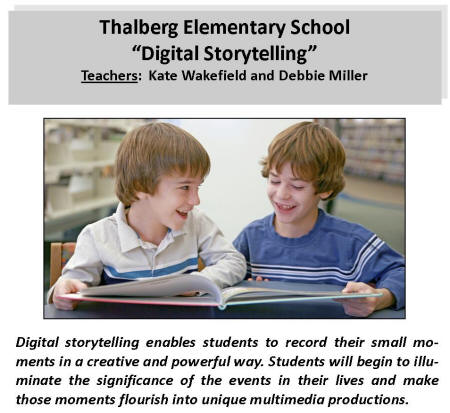 ---
February 25, 2010
The Southington Education Foundation funded three innovative and constructive grants following an anonymous donation of $10,000.
With $5,000 of the donation, Southington High School will be outfitted with a TI-Nspire Classroom, which combines learning handhelds and computer software with assessment tools that gauge student understanding within an interactive classroom. The technology will be utilized extensively in five sections of precalculus classes and at least one section of advanced placement statistics at SHS. Additional math classes will also benefit from the technology, which includes SmartBoards, LCD projectors, computer software and calculators, because at least two classrooms will be equipped with the apparatus, according to SHS Math Department Chairman Robert Lasbury.
The Kennedy Middle School Music Department received $2,500 to be used to promote and inspire jazz music. Specifically recognized by the donor was Tim Johnson, who directs the school's band. The money will go toward the purchase of sound equipment, which students will learn to set up and operate for school concerts. Students will also learn how to make CDs after recording their concerts.
The final $2,500 was earmarked for the SHS Construction and Manufacturing Career Advisory Board, which sponsors expos for students to meet representatives from different trade industries to discuss career options. The donation specifically cited John Ellsworth and Nancy Cheiro for their respective service to the school system and its students.
---
February 5, 2010
On February 5, 2010, SEF awarded the first round of mini-grants to educators during a reception at Thalberg School:
If you have further questions regarding applying for grants through the Southington Education Foundation, click here.